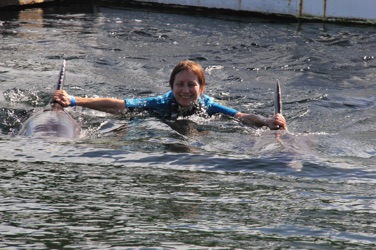 Swimming with dolphins is incredible! Many destinations in the Caribbean, Florida, California, Hawaii, Australia, and even Israel offer dolphin swim activities. If you are vacationing near a dolphin swim venue, budget the approximately $100-200 per person for the activity. You won't be sorry.
Most dolphin-swim facilities provide rehabilitation services for rescued marine animals. Some rescued animals cannot be returned to the wild and become permanent residents. Their offspring often remain at the facilities, too, where they are pampered and kept busy training and performing. Without these rehabilitation facilities many injured animals would have no hope of survival. Ticket sales help to fund rescue efforts and the cost of facilities required to house rescued animals.
Winter the dolphin was rescued in 2005 off the coast of Florida. She was trapped in a blue crab net and lost part of her tail. After finding a home at the Clearwater Marine Aquarium, she was fitted with a prosthetic tail that enabled her to swim like normal dolphins. She is featured in the films Dolphin Tale released in 2011 and Dolphin Tale 2, released in 2014.
Edison Jones, his sister Charlotte, and friend Jonathan have an exciting dolphin encounter in Storm Glass Bay. Get your kids psyched up for great island adventures with this action-packed book.
What can you expect during a dolphin swim? Each venue has a unique program, but in general you'll have a 60-90 minute experience that includes gearing up, an orientation, and in-water interaction.
Your swim will take place in a cove or tank. Water depth and temperatures vary depending on the venue. If the water is cool (below 75 degrees) you'll want to wear a wet suit. Most venues can supply a wet suit if you don't have your own.
You'll change into your swimsuit and squeeze in to your wetsuit in a changing room. After you've made sure that your wetsuit fits, you can peel it down to your waist so that you don't overheat during the orientation.
Take off all your jewelery, including earrings, piercings, etc.
Don't wear sunscreen. Dolphins do not like it.
You'll be supplied with the other gear that you need. Depending on the venue, you may be supplied with a mask, fins, and life jacket.
Secure your street clothes in a locker or give them to a family member or friend. Take your towel to the orientation.
You'll begin with a short orientation which lays down the ground rules, such as take instruction only from the trainer. You'll also learn a series of hand signals used to communicate with the dolphins. There will be a hand signal for each behavior (don't call them "tricks," please), such as "let me hug you" or "flip." These signals can differ from one venue to another. There is no universal signal language for communication between humans and dolphins.
Pay attention during the orientation so you'll know what to expect once you are in the water and the dolphins are near. Ask your questions at the orientation, rather than wait until you are in the water. Make sure you know the order of activities; for example, will you be petting the dolphins first, or will you begin with an exciting dolphin ride?
Now the real fun begins! You'll pull on your fins and ease into the water. The dolphins are usually hanging out by the official trainers. You and the other participants will take turns interacting with the dolphins. Dolphins are not "fish," they are mammals in the Cetacea order that also includes whales and porpoises. The dolphins in swim events are quite large: 6-10 feet long and up to 600 pounds. Don't worry. They are gentle and friendly.
Dolphins are intelligent in a rather non-human way and quite playful. Some dolphins are also a bit tricky and require a good dose of confidence on the part of the trainer. When free swimming, dolphins may mischievously try to steer you close to the wall or into the mangroves. They are just testing your resolve, so stay alert and clear about the behaviors you expect the dolphin to perform.
Swim interactions vary from one venue to another. Your session will likely include five or six of the following:
Pet the dolphins. Run your hands over their surprisingly rubbery bodies.
Get a hug or a kiss. And you can give a kiss, too!
Free swim. Swim, dive, and enjoy the water along with a dolphin companion.
Dorsal tow. Get towed through the water while holding onto the dorsal fin of one or two dolphins.
Foot push. Get pushed through the water by your feet.
Flipper shake. Shake "flippers" with a dolphin.
Boogie tow. Get pulled on a boogie board.
Dolphin lift. Hold a dolphin "up" in the water.
Belly tow. Ride on an upside-down dolphin's belly.
Back ride. Ride while standing on a dolphin's back.
Trainer for a day. Learn how to give performing commands for jumping, flipping, etc.
Restrictions
Most venues have age and size restrictions, so check before you promise a dolphin swim to young people. A few venues accommodate children as young as 3 years old. Most venues require adults to participate in the water if the child is younger than 8 years old.
Some swim programs can accommodate participants with handicaps. If applicable, it is best to check by phone, as participation may depend on the nature of the handicap.
Pregnant women are not allowed to swim.
Reservations
You can reserve ahead of time online. There are sometimes discounts offered for early registration. You may be able to use discount coupons from tourist brochures.
Some venues offer discounts for children, but others do not.
There is usually a fee for observers, such as family members or friends.
Cruise ships often offer dolphin swims as a port activity and reservations can be made via the ship concierge.
Check cancellation policies before you reserve.
Check the weather. Most programs proceed on schedule regardless of rain, but are cancelled or delayed if there is thunder.
Programs
Get information on the length of the program and how much time is actually spent in the water. Typical interaction time is 30-45 minutes.
Check for information about group size. In a typical program participants take turns interacting with the dolphins. If your group is large, you'll spend lots of time in the water observing, which is fine if the water is warm, but in cool water you might start to shiver.
You won't be able to use your camera during the interaction. Find out if friends or family who are observing will be allowed to take photos. At some venues no photography is allowed.
If a professional photographer is onsite, ask the price of photos. Usually there is a price per photo, a price for a package of photos on CD, and also a price for photos and videos on DVD.
Gear
Wear a bathing suit and be sure to take a towel and change of clothing for after the swim adventure. Most venues supply a mask and fins. Many also provide wetsuits if the water is cool. You can usually rent a locker to stow your street clothes.
Some venues require life jackets, other do not. If life jackets are required, they are usually provided.
Do not wear sunscreen on the day of your swim.
You'll have to remove all jewelery, including earrings.